Events
12- 5PM | Wine Tasting Every Saturday and Sunday year round
Live Music every Sunday 2-5PM
All Sunday's are free to attend plus Family and Pet Friendly.
Live Music every Sunday 2-5PM
Bring your own snacks or purchase some from our wine friendly snacks.
______________________________________________________________________________________
Fundraisers and Other upcoming events at Engelmann Cellars
---
6-10PM | Friday Night Wine Tastings May- September | The Rules
Friday Night Wine Tasting
Summer 2021
Engelmann Cellars is celebrating 13 years of live music Friday's.
We are so excited about this summer's lineup at Engelmann Cellars for Friday Night Wine Tasting. You still bring your own chair or blanket to sit on, your own wine glass to drink out of, and we will have caterers with food and drinks for sell at all Friday nights. We are still running from 6PM - 10PM. We will be carding at the gate so all Friday Night Wine Tastings are 21 and over this includes infants. There is still absolutely no outside beverages or ice allowed at any events at Engelmann Cellars, all bags including chair bags will be checked. Enjoy!
Planning a party or have a group of 8 people and would rather reserve a table? Each person will also need a general admission ticket to get into the venue. The VIP Table reservation is for a table close to the stage with linen table covers and 8 chairs. Just reserve your table for 8 and we will have it set up with linens for you when you arrive. This does not include the cover charge for the event. All guest will still have to pay to get into the event or be a current wine club member. Reserve 2-3 for larger parties. It's the Easy Button for Birthday Parties. All table reservations are cut off at 3PM the day before the show.
No Outside Beverages or Ice - All bags including chair bags will be checked
No One Under 21 Allowed this includes no infants ID's checked at gate

Friday night covercharge $20-$25 Please check event to see individual prices for each show
Current Cellar Door Wine Club members get in free
Click here for more info on our wine club....
Friday Night Concerts are Back
All Shows
21+ only - No Pets - No Outside Beverages / Alcohol or Ice
Click on show for tickets and or VIP Tables
Gates open: 6PM
Music: 7-10PM
April 30, 2021
May 7, 2021
May 14, 2021
Jeremy Elvis Pearce and the Memphis Sons
May 21, 2021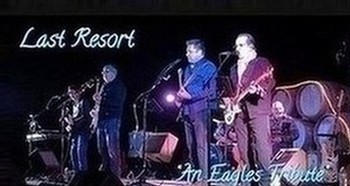 Eagles Tribute - The Last Resort
May 28, 2021
80's Night with Max Headroom Band
More to come soon..........
Cellar Door Wine Club members get free entrance on all Friday nights. Two people per membership.
This would save you $1110 if you go to every Friday night show this summer.
________________________________________________________________________________________
You can purchase tickets through either Facebook or Afton Tickets.
Choose which is best for you and invite your friends.
Please call 1-559-274-9463 for all event details. Including what is and is not allowed in our venue.
1. No ice. We now sell ice in venue.
2. No liquids including water. We have free water and bottled water for sale. All of our vendors also sell non-alcoholic beverages.
3. No tables of any size over 4 feet long. Blankets and lawn chairs are allowed.
Thank you for your understanding. Cheers!


No Outside Beverages or Ice Chests Allowed - All bags including chair bags will be checked
No One Under 21 Allowed (except on Family Movie Nights)
No Pets Allowed on Friday nights
Have friends or colleagues that may be interested in some of Engelmann Cellars upcoming events? Forward them our web address www.engelmanncellars.com to sign up for the Engelmann Cellar Door e-newsletters and stay ahead of all upcoming events.