At Engelmann Cellars the mission is clear: Produce premium quality wines, from local grapes that are hand processed in our boutique winery located in the beautiful vineyards of the Fresno countryside. These wines will reflect the quality of wines produced throughout the State of California at a price that will be a great value to their consumers.
---
Visit, taste, enjoy every Saturday and Sunday 12-5PM
Engelmann Cellar Door Wine Club Wine of the Month February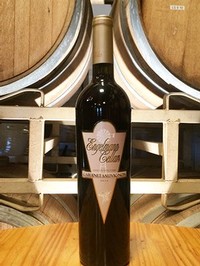 2012 Ashley's Vineyard Cabernet Sauvignon
Cellar Door Wine Club Member Price for February $10.00 plus tax (LIMIT 12 PER VISIT)
Retail Price $20.00 plus tax
(Cellar Door Wine Club Members receive a 50% discount on the Wine of the Month. Club Members may also continue to take advantage of the 20% discount on all of our other wines on our current wine list.)
Click here to join the Engelmann Cellar Door Wine Club.......
2012 Ashley's Vineyard Cabernet Sauvignon
This 100% Cabernet Sauvignon spent 18 months in small premium oak barrels concentrating the balanced fruit and tannin structure of these exceptional Central Valley wine grapes. The result is a well-balanced Cabernet Sauvignon that is equally great with or without any food pairing. Because of the extended barrel aging, this wine is aged perfectly now and should show small improvements over the next year as flavors and aromas mellow in the bottle. It will cellar well, but is not necessary for optimum enjoyment.
Ashley's Vineyard is a 2.5 acre vineyard of Cabernet Sauvignon planted directly next to Engelmann Cellars winery in Fresno, CA. The vineyard was planted in the spring of 2000 about the time that my sister was pregnant with her first child Ashley. Since my sister and husband were living in our grandparent's house in front of the winery at the time, I felt it fitting to call the vineyard Ashley's Vineyard. These grapes are grown exclusively for use in Engelmann Cellars wines so that we can focus on quality instead of quantity in the vineyard. One good example of this is holding back water on the vineyard in the spring and early summer months to stress the vines. By stressing the vines we can produce about 6 tons of premium grapes per acre, instead of the 12 tons of moderate quality grapes that are usually sold to the large valley wineries.
________________________________________________________________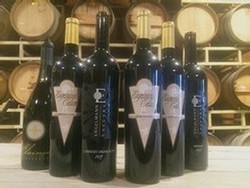 San Francisco Chronicle Wine Competition 2016 results
2013 Engelmann Cellars Cabernet Shiraz -- Bronze Medal Winner
2013 Engelmann Cellars Mulino -- Bronze Medal Winner
2014 Elainea Vineyards Malbec -- Bronze Medal Winner
2013 Engelmann Cellars Zinaz -- Silver Medal Winner
2013 Engelmann Cellars Uber Zinfandel -- Double Gold Medal Winner
2013 Engelmann Cellars Estate Platinum Cabernet Sauvignon -- Double Gold Medal Winner
Needless to say we have been pretty excited about these new medals since we found out. We are going to throw a party this weekend to celebrate. All 6 wines will be available for tasting this weekend Jan. 16-17, 2016 (even though Malbec is due for release to Cellar Door Wine Club Members in the February Shipment and Zinaz not until April Shipment). You can purchase them early in our special San Francisco Chronicle 6 pack. Individually they would cost you $168.00 but if you purchase this 6 pack in the tasting room or online you will get it for only $115.00 plus tax.
__________________________________________________________________________________
UNPLUGGED AND UNCORKED
All ages welcome in the patio and park Saturday and Sunday from 12-5pm

SUNDAY | Feb 7, 2016 | No live music
(tasting room still open with Super Bowl on the movie screen)
____________________________________________________________________________________
Wedding and Private Events at Engelmann Cellars
Recently engaged or know someone who is? Engelmann Cellars would love to host your big day. We still has some great dates for spring and fall 2016. Please shoot us an email with your prefered date.
Book before January 31, 2016 and get half off your rental fee.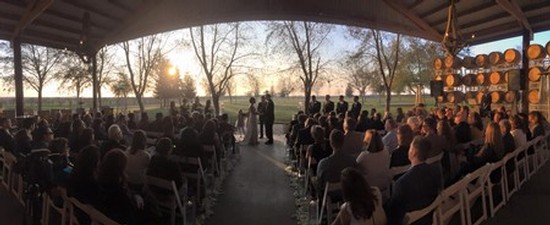 Eryn and Brayden Wedding January 31, 2015
It's that time of year again when all the newly engaged couples are looking for a place to hold their special day. Engelmann Cellars would love to give you the perfect setting for your perfect day. Please visit our Wedding page for details.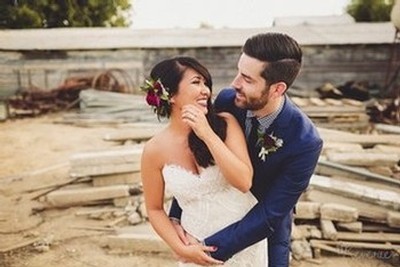 Jessica and Evan Sept. 26, 2015
Photos and Video by Reverievp.com
_______________________________________________________________________________________
Costco Wholesale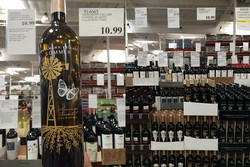 Many of you already know that Engelmann Cellars has had a few wines in several Costco Wholesales locally, but for all of you that don't know make sure not to miss out on these great deals. For everyone that already did know make sure to help keep us in Costco buy buying Engelmann Cellars when shopping at Costco.
Costco Locations: North Fresno, Shaw Ave. Fresno, Clovis, Merced, Visalia
______________________________________________________________________________________

You can now order all your favorite Engelmann Cellars wines with One Click on Amazon.com (California shipping only)
Click here to visit our Amazon.com store.....
____________________________________________________________________________________________
Cheers!
Bret & Elainea Engelman
Engelmann Cellars
3275 N. Rolinda Ave.
Fresno, CA 93723
559-274-9463