Cellar Door Club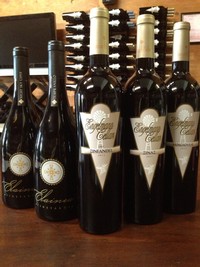 Ever get tired of buying the same old wine, from the same large producers, that are available at every wine shop and grocery store in town? Looking for something new and unique? Well Engelmann's Cellar Door Club could be just what you are looking for.
What do you get with Engelmann's Cellar Door Club? How about four shipments a year (February, April, August and November) of 4, 6, or 12 bottles of wine (you pick the level of membership) at 20% off retail plus CA sales tax.
1. You also get 20% off any wine purchases at the winery anytime of year (January is 40% on 2 or more bottles)
2. You pay no cover to Friday Night Wine Tasting events May-Sept.
3. You get to purchase select wines before their release to everyone else
4. You get early invitations to Engelmann Cellars events (get them before they sell out)
5. You have access to very limited Engelmann Cellars Library Wines (early vintages) included in several shipments
6. Best of all you get to tell your friends that you are an Ambassador in the Engelmann Cellar Door Wine Club
What does it cost? Absolutely free to join. There is a one year comitment (four shipments) when signing up.
Just join below, and each shipment will be billed to your credit card, at the begining of the month on release months above. You may elect to pickup the wine at the winery and save the shipping, plus get a chance to see what is new. A notification email will be sent to let you know that we are holding your new wines.
Your Cellar Door Wine Club membership will give you some truly unique wines most shipments ranging between:
4 bottle level $90-$110
6 bottle level $100-$130
12 bottle level $180-$250
Wine Club membership is for a 1 year minimum. If you cancel before your first 4 shipments you will be charged $150 cancelation fee.
For Cellar Door Wine Club questions contact: Caitlin Gainey-Alchian Caitlin@engelmanncellars.com