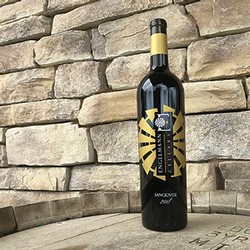 Cabernet Shiraz
Synergy is the perfect description for marvelous blend of Cabernet Sauvignon and Syrah. The big smoke, berries and black tea characters of the Syrah, meld with the pleasant cherry and black pepper of the Cabernet Sauvignon. This wine has a solid structure with some young tannins that will develop brilliantly over the next 5-10 years.
Enjoy with any beef, lamb, or wild game.
---
Product Reviews
Cosima Hopper

(Jul 3, 2011 at 11:22 AM)
99% of the time we drink red wines with a meal but when we opened and tasted a 2002 bottle of Cabernet Shiraz, it is/was so DELICIOUS that it became a "sipper" due to it's amazing, complex and, did I say delicious, taste.