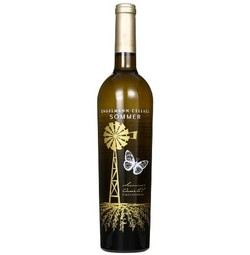 Summer Quartet
A symphony of grapes composes this truly unique wine. Comprised of an unparalleled blend of Chardonnay, Viognier, Cabernet Sauvignon (Blanc de Noirs), and Muscat of Alexandria; this wine promises to delight any pallet. The rich and creamy Chardonnay blends perfectly with the orange blossom and exotic spices of the Viognier and Muscat. Cabernet Sauvignon adds a polished smooth pallet, making this one truly distinctive and succulent wine.
Enjoy cold, with a light meal of chicken or seafood, or try with some fresh summer fruit.
---
Product Reviews
Maylen Bolster

(Jan 4, 2015 at 4:33 PM)
Chardonnay is an old friend, but I grew tired of trying to find equal or better ones than my old favorites. I received this bottle of wine as a gift on Christmas Eve from my son in law, a Fresno resident. I opened it prior to our meal and it was delightful. I have never had a four grape blend in a white wine, and the chardonnay spoke but with a slight hint of sweetness and the finish left me wanting to refill my glass ahead of others. I want more, and will let my kids know to bring it when they come!!
Gloria Avila

(Nov 30, 2015 at 4:05 PM)
Looking for engelmann Cellars Sommer RS my daughter bought me a bottle at one of your wine walks and can't fine it any where please where can I buy it and how much for a bottle I would like more then one
Lynn Luther

(Oct 12, 2016 at 8:08 AM)
I bought this as a gift for my mother in Oregon, and it was, in her words, stupendous! She said, and I quote, "So exquisitely complex, especially for a white wine. We both just swooned our way through it."