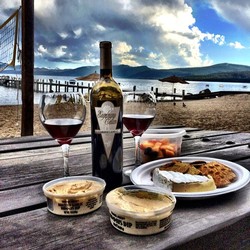 Potpourri Case Red Only
FREE SHIPPING inside California *Reduced shipping everywhere else
Potpourri Case Red Only
A great way to do your private Engelmann Cellars wine tasting at home. One bottle of each of the red wines listed below will be shipped to you to sample or share in the comforts of your own home. Also a great gift for that wine lover that you don't know which wine to buy for, or any gathering you can let your guest pick the wine. This case is very popular in the winery for the wine lovers who can't decide which wines they liked the best, and want to take advantage of a great deal on a case of wine. Full retail on all twelve bottles would be $420.00 You will save $191.00 on this Potpurri Case marked down over 40% off retail, thats only $19.08 per bottle. Hurry this deal won't last.
In the current Potpourri Case Red Only you get:
Retail
$28 Sangiovese
2 x $26 Ashley's Vineyard Cabernet Sauvignon
$32 Uber Vine Zinfandel
$26 Malbec (Elainea Vineyards)
$36 Night Sky Gypsy (Elainea Vineyards
$32 Primitivo (Elainea Vineyards)
$48 Cabernet Franc
2 x $44 Clark Ranch Zinfandel
2 x $42 2013 Platinum Cabernet Sauvignon
$420.00 Total Retail Value
*** Bottles may be substituted if unavailable.
---
Product Reviews